17th August 2009 - -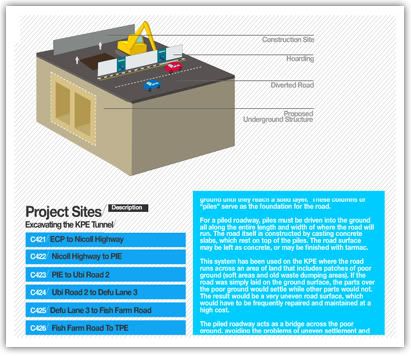 With the recent opening of Singapore's road tunnel system "Kallang-Paya Labor" (
KPE
), the Land Transport Authority
website
was a good example of a clean, well informed site. Inside were many examples of how the tunnel was constructed and the features that went into it, including downloadable brochures that had tunnel infographics.
Of course the brochures were designed by professionals, but the typical isometric view they used to construct the visuals suits the nature of the 3D settings in PowerPoint perfectly; more so in 2007, then the 2003 version.
Below is a sample of a reconstructed infographic taken from the brochure in the 2003 version; and serves to depict the difference between using the Parallel (isometric) view and the Perspective view. Later examples of the 2007 will appear in other tutorials.
Infographics add a whole new depth to PowerPoint diagrams and whilst not suited to every occasion can be a very powerful visual device to clarify particular messages.